Published: March 05, 2018 Last Updated: February 09, 2022
Do You Measure Your Digital Marketing Goals?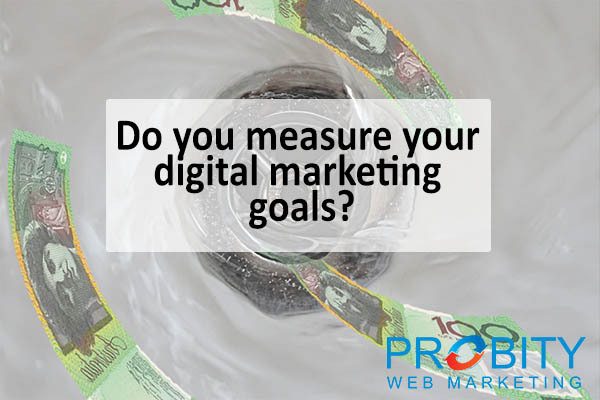 Marketing should be treated like an investment and you should always be looking for a Return on your Investment (ROI). Your marketing dollars should convert into sales for your business, otherwise you may as well flush your money down the drain. Just like any other investment, you invest your money in the areas that are going to give you the best return for your money.
So how do you know where to invest your marketing dollars?
Well just like the stock market, you need to know how much money you are spending on a marketing strategy (share investment) and how much money you got back in terms of sales (dividend and capital gain). In other words, you need to have good analytics tracking your digital marketing goals (think website sales, webforms and phone calls). If you're really switched on, you can even track how many webforms and phone calls it takes to convert into a sale and how much the average sale is.
Do you just blindly spend money with Truelocal, Yellow Pages or some other online directory?
One of our clients has been spending $5000/month with Truelocal and has been for a couple of years. He has just realised that for his investment of $60 000 over the last 12 months, he generated $12 000 worth of sales. We wouldn't call that an investment, but rather flushing your money down the drain.
So how did this come about?
When he started with us, we set up analytics on his website so we could track exactly how many webforms and phone calls his website was generating. Whilst tracking webforms is extremely easy, we also set up call tracking which allows us to see exactly where phone calls generated by his website come from. This allows us to generate a monthly report that not only shows how many webform and phone call enquiries his website generated, but also what it cost him per lead.
Our client had never had this information for his previous marketing strategies before and was suitably impressed. It also got him thinking about how much his other marketing strategies were costing him per lead. So he got us to organise a call tracking number for Truelocal and started taking a lot more notice.
After a few months he came to the realisation above. After several discussions with Truelocal he decided that he was not going to be able to improve on this, so cancelled his account. He is now going to spend that money on Adwords; and of course, we will be measuring exactly what his cost per lead is. And just between you and me, I'm extremely confident his return will be a lot better than his Truelocal one.