About Probity Web Marketing
15 Years and counting.
We aim to be the best Digital Marketing Company
for Small Business. We are an Australian business with
Australian Staff.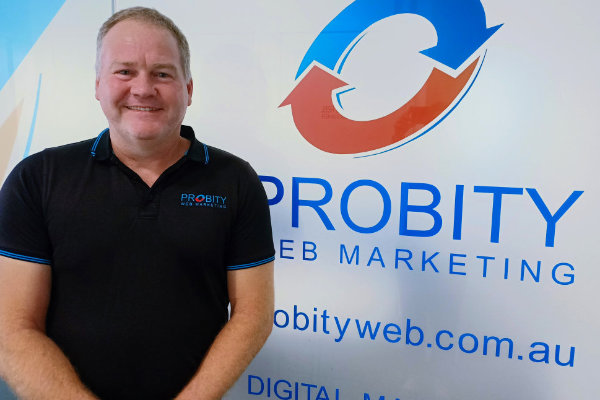 >
We seek first to understand the Client business and then focus on generating Sales & Leads and integrating their business with the web in the most cost effective way.
Our History
After an early career in Hospitality Management, Jarrod Sweetman started a business as an Icon Business Advisor, helping Small Business plan for growth. During this time he realised that most of his clients needed effective websites but couldn't find anyone that he could recommend with a good solution at a reasonable price. Then when he came across "Adobe Business Catalyst", a website management system that provided all that was missing, he decided it was time to start a second business in Website Design. So in 2007, Probity Partners (T/A Probity Web & Print) was started.
After 3 years of running Probity Web & Print, Jarrod realised that just having a website was not enough; you needed to market it. Once again he found himself struggling to find a business that he was comfortable referring to his clients. The companies he approached used complex, technical jargon and offered expensive plans that were impossible to understand. So he began researching himself and spending more and more time helping his clients optimise their Web Marketing strategies. After considerable success with several clients, he decided it was time that Probity Web & Print evolved into Probity Web Marketing and he started offering a complete solution.
In 2011 Probity Web Marketing moved to Mount Coolum on the Sunshine Coast, where we initially operated the business in a home office. However, as we grew and employed staff, a decision was made to set up offices in Coolum Beach. After 2 years in Coolum Beach we had outgrown our offices, so looked for larger premises and ended up in Mooloolaba. We are so thankful to be working in one of the best parts of the world and work with clients all over Australia.
In 2019, Adobe told us they were closing down Business Catalyst (our website platform) so we needed to look elsewhere. After reviewing the leading Website CMS's on the net, we decided that we could build a better version that allowed us to easily implement the digital marketing strategies we had developed over the years. So we started building WaveDXP. This is not only a Website Content Management System, but a Business Intelligence Dashboard and Customer Relationship Manager (CRM) which our clients have often asked about.
The Probity Web Marketing Difference
Our Mission
Probity Web Marketing provides all services a Small Business will need to optimise their use of the Web and have a complete Web Marketing Strategy.
We seek first to understand the Client business and then focus on generating Sales & Leads and integrating their business with the web in the most cost effective way.
We understand that most of our clients are confused by SEO jargon and only really care about what the return will be on their investment.
You get a dedicated Project Manager who will seek to fully understand your Business before deciding on your Web Marketing Goals and developing the best strategy for you.
We don't just focus on Ranking! Our strategy will focus on 4 key areas of Web Marketing
We will measure the success of this strategy through Goal Conversion (Sales & Leads) - not on Search Engine Ranking, the number of Visitors or how good a website looks.
We will keep you updated with our results and what our next steps are – in plain English with the minimum of useless Tech Speak that you aren't interested in.
We will also look for solutions on the web that we feel will improve the overall running of your business and help to integrate these into your existing processes.
Meet the Digital Marketing team
We are a team of passionate digital marketing professionals located on the beautiful Sunshine Coast.
Jarrod Sweetman

Founder / Director

Alice Sweetman

Co-Founder / Content

Andrew McGahan

Lead Developer

Peter Bekkers

Web Design/Development