Pay Per Click Advertising
What is PPC Advertising?
Confused about what Pay Per Click (PPC) Advertising is? What about Adwords? Adwords is Google's name for PPC ads; whereas Bing calls them Bing Ads. But what exactly is PPC Advertising?
Pay per Click Advertising are the ads that show at the top (sometimes bottom) and to the right of the search results page (SERP).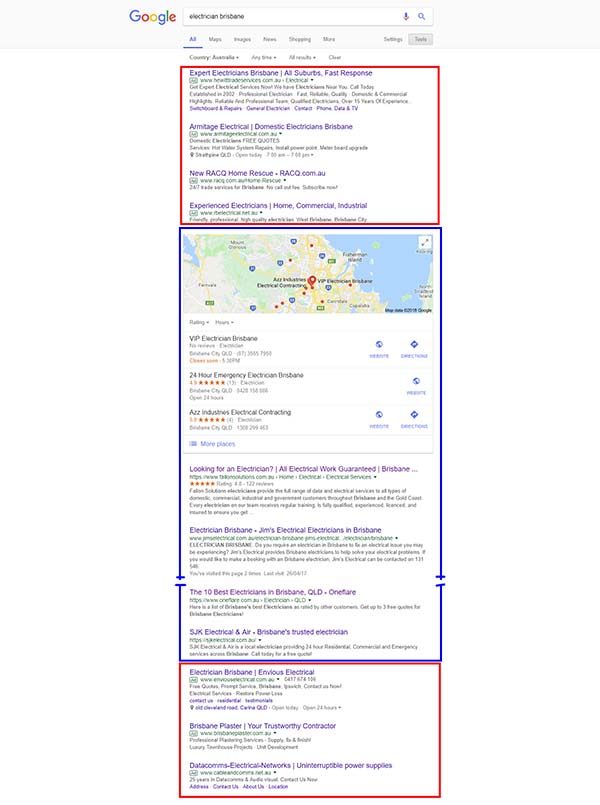 Unlike the other sections of the SERP, Adwords are paid ads whereby you pay a specified amount every time someone clicks on your ad through to your website. Now you know what "Pay per Click" means.
SEARCH ENGINE MARKETING HELP?
Fill out the form below and we will get back to you as soon as possible or give us a call on 1300 399 515
Benefits of PPC Advertising
You choose what search terms you want to target
When you set up PPC Ads, you decide what search terms you want them to show for. Unlike organic search, where sometimes your site might show for keywords you don't want to target (or maybe not show when you want it to), with PPC you have complete control.
Your paid search ads show when you want them to
As soon as you set up your PPC Ads, they will start to show for whatever search terms you targeted. Similarly, you can just as easily stop them from showing. This makes them perfect for businesses that have highs and lows in their sales. Just turn them on when you need them.
You decide how much you want to spend on PPC
With Pay Per Click Advertising, you have complete control over how much you want to spend. When setting it up, you decide how much you want to spend a day and your ads will stop when they reach that limit, so no surprises.
You only pay when someone visits your website
As the name suggests, you "Pay per Click". That means that you are only charged when someone clicks on your ad and goes through to your website.
You can get to the top of Google (or Bing) immediately
Because the PPC Ads show in prominent positions on the search engine results page; by simply setting up your ad you will immediately be seen by searchers. However, it depends on how competitive the keywords you have chosen are as to how much it will cost to be at the top.
PPC Management
Whilst it is pretty straight forward setting up PPC Advertising, there is a definite skill required to ensure that you get the best possible return on your PPC investment. There are plenty of stories around of businesses' who wasted thousands on poorly set up ads. Probity Web Marketing offers PPC Management with all their web marketing plans.
Find out more about Pay Per Click Advertising through Adwords Management.
Frequently Asked Questions about SEARCH ENGINE MARKETING
Have you ever visited a website and then for days afterwards saw adverts related to that website? If so, then you've seen remarketing at work. In simple terms, remarketing is the ability to show ads to people who have visited your website; but there is more to it than just that. Remarketing is...
Learn More
For more in depth search engine marketing information visit our Search engine marketing Information page