What is Search Engine Optimisation?
Search Engine Optimisation is essentially optimising your website so that it ranks well in search engines (eg. Google or Bing) for organic search. In other words, when someone does a search for your products or services on Google, SEO will ensure that your website listing will be at the top (or as close as possible) of the organic search listings. Having your website ranking high will mean that you will get more visitors (traffic) to your website and therefore should get more leads and sales.
What is organic search?
When you do a search with Google you can see results from 3 different areas. At the top and bottom of the page, you will see AdWords; these are paid advertising where you pay every time someone clicks on them. If the search is for a local business, you will see a section with a map showing listings from "Google My Business". The last section is the listings in the middle of the page. These last 2 areas are what we call organic search (though the maps section can also be referred to as Local Search).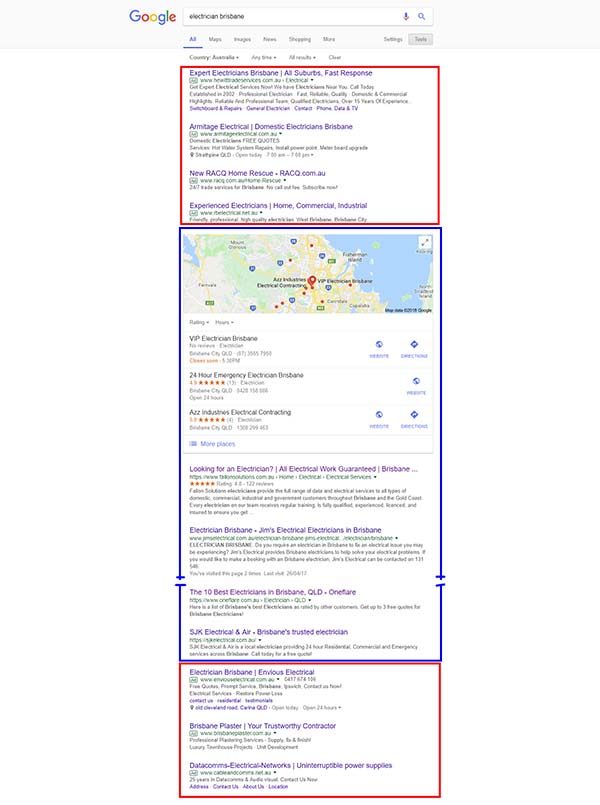 Organic search listings haven't been directly paid for like with AdWords. Sure you may pay for search engine optimisation, but this doesn't guarantee your listing on the first page, but rather influences it.
What keywords does your website rank for?
Good Search Engine Optimisation always starts with thorough keyword research. This involves identifying search topics, which is a group of similar keywords for people looking for the same thing (eg. what is seo). Once we've grouped similar keywords together we need to decide what the searcher's intent is. This simply means are they looking for information or an actual product or service. To keep with our example, are they looking for information on how to do SEO or are they looking for a business to do their SEO.
Whilst the intent may differ, that doesn't mean we shouldn't be targeting informational intent. For instance, someone reading this article is looking to understand what SEO is and once they fully understand it may decide to hire an SEO agency. They are at the top of the marketing funnel.
But SEO isn't just about website ranking
Many SEO companies will promise you "No. 1 in Google", or "Top 3 in Google" etc, but don't get sucked in. It isn't just a matter of your website ranking high, but several other key points.
What does your website listing say on the search results page?
When you search for something, you will usually be shown 10 different results on the first page. Other than being first, how can you stand out over the others so more people are likely to click your listing? The answer is in what your listing says.
How many times have you searched for something and found listings with the title "Home" or "Welcome to our Website" etc? Do these make you want to click on them if you were searching for "Plumber Brisbane"?
So SEO should also include influencing what you want Google (or Bing) to show when listing your website.
What happens when a visitor comes to your website?
Now we've influenced the searcher to click on our listing, we need to ensure that they don't just leave our website but rather do what we want them to do. In most cases we want a website visitor to either fill in a webform, click to call us, or buy one of our products online. Whilst this can fall under website optimisation (UX Design and Conversion Rate Optimisation), it is still an important part of any search engine optimisation strategy.
What exactly does Search Engine Optimisation involve?
SEO can be broken down into 2 main strategies: Onsite and Offsite Optimisation. This is just a fancy way of saying that you can either work on your website content and structure (Onsite) or look at ways to improve your rankings without doing anything on your site (Offsite). The most common Offsite Optimisation strategy is Link Building.
You can find out more about these 2 search engine optimisation strategies here: