Published: January 15, 2015 Last Updated: February 09, 2022
Is Your Website Mobile Friendly?
Mobile friendly websites are a bit like standard websites were in the early 2000's. That is, many small business owners have heard about mobile friendly websites but still aren't convinced that it is important; "Is it just a fad that will go away if I ignore it long enough?"
Well I'm here to tell you that if your website doesn't work well on a mobile phone (Smartphone) then you are losing potential business. We have found the percentage of website visitors coming from a mobile phone has grown from around 5-8% back in 2012 to 25-30% at the moment. That's a lot of traffic that you could potentially lose by having a website that looks terrible and is hard to navigate on a phone.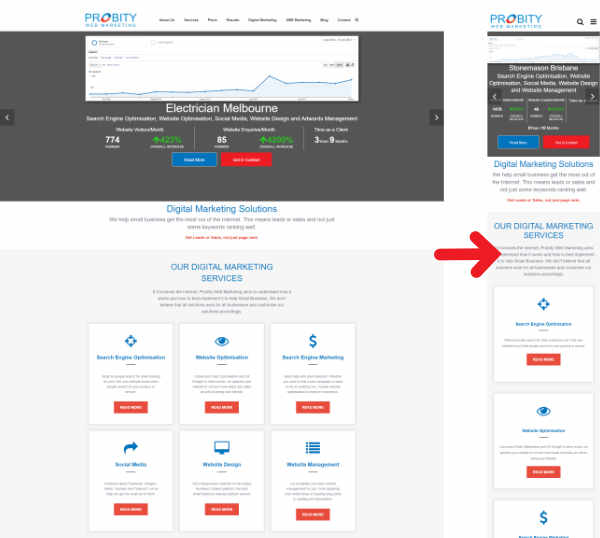 Traffic is all well and good, but does Mobile Traffic convert?
Whilst the webform conversion rate for mobiles on most of our websites is a bit below a desktop user, this doesn't give the full picture. You see, someone on a mobile phone is more likely to call rather than fill in a webform. So what is lost on webforms, is more than made up for by phone calls. Furthermore, a phone call is generally considered a hotter prospect then a webform.
So how do you know if your website is mobile friendly?
The obvious answer is to simply look at your website on a mobile phone and see how it looks. But there is more to it than that, with things like loading times etc that also has an impact. To help you out, Google has created a "Mobile Friendly Test" where you simply put in your web address and it will tell you. To give this a go, simply go to https://www.google.com/webmasters/tools/mobile-friendly/ .
So tell me in dot points why I should have a mobile friendly website!
Your website will get a slight boost in rankings by Google
Your business website will look professional to the 30% of website traffic that views your website on a smartphone.
You will convert more traffic into enquiries and therefore sales.
How do you get a mobile friendly website?
In the beginning a mobile friendly website was a second website that had been designed for small screens and your main website redirected to when viewed on a smartphone. This lead to a slew of websites offering to build you simple mobile websites (such as Duda Mobile etc). The biggest issue here was that you firstly had to maintain 2 websites and secondly many visitors wanted to see all your website content on their phone, not just the pages you decided to add to your mobile site.
Welcome to responsive design!
Responsive Design is recommended by Google and is where a website has been designed to adjust depending on the size of the screen it is being viewed on. Put simply, a 3 column website might change to a 2 column website and then a 1 column website as the screen shrinks. This solves the issues of the second mobile website as you only maintain 1 website and a smartphone visitor has access to your complete website.
So if your business website isn't mobile friendly, I suggest you make this your new year resolution and take action. Don't lose business as a result of your apathy.
You can find out more about responsive website design here .