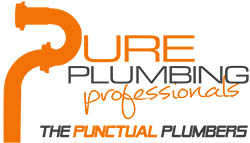 Pure Plumbing Professionals
Pure Plumbing Professionals were referred to us by a business that had worked with another of our clients. They had used several different digital marketing companies and had been badly burned by them. They had spent thousands for very little return and so naturally had a very negative view of the industry. That being said, they understood that the web had enormous potential for their business and if they were serious about growing their business they needed to get a digital marketing company they could trust. After clearing up some of the spammy techniques the other digital marketing companies had used, we started on getting their website found and converting. We also set up some Adwords campaigns so they could turn these on and off depending on workload.
Client Profile
Pure Plumbing Professionals are Plumbers based in the north of Sydney. They work very hard at giving the best service they can and have won local business awards for this.
Initial Client Issues:
Their website was only generating very limited organic search traffic and enquiries
They were extremely sceptical of the digital marketing industry
Initial Client Needs:
Website Optimisation Plan to improve Natural Search traffic and conversion
Optimised Adwords campaigns that generated more leads at a lower cost per acquisition
A Web Marketing Company that knew what they were doing, could be trusted and made the process hassle free.
Our Solution
We started Pure Plumbing Professionals on our Gold Web Marketing Plan. This included:
Designing and building a professional looking website using our own WaveDXP built on PlatformOS.
Identified what keywords they needed to rank for and optimised the site for these
Tweaked the website design to maximise conversions
Set up Adwords Campaigns
Regular Website Audits to identify areas for improvement and opportunities
Jerram Chippindale - Pure Plumbing Professionals
I have been using the team at Probity Web Marketing for a few years now. For the first time ever we have seen page 1 results on Google, what is more impressive is that the industry I am in is one of the most competitive in the country. (Sydney Plumbers) Thanks Jarrod, I would definitely recommend the results don't lie.